Government agencies openly admit that animal testing for the safety of chemicals and drugs is slow, expensive and inaccurate compared to modern cell-based and computerized tests. Yet, they still spend untold millions of tax dollars each year on toxicity tests in which rats, mice, dogs and other animals are force-fed enormous doses of cosmetics ingredients, foods, natural supplements, drugs, and other substances. What's worse, no one knows how many animals are used, for what tests or what it costs taxpayers. A new bipartisan bill supported by the White Coat Waste Project would change that.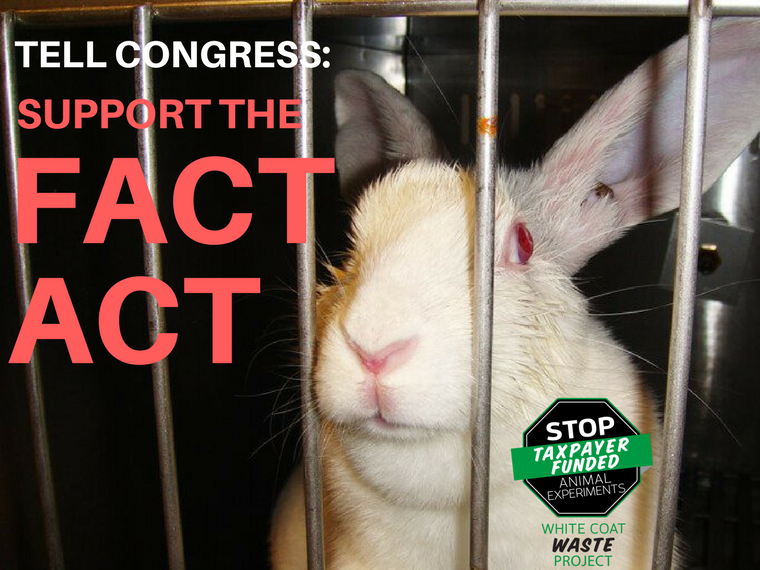 As POLITICO just reported, today Congressman Ken Calvert (R-CA) introduced the Federal Accountability in Chemical Testing (FACT) Act (HR 816). The common-sense FACT Act requires that EPA, FDA, NIH, DOD, USDA and other federal agencies that conduct or require toxicity testing report the number of animals used, their species and what tests they were used for. The bill strengthens biennial reporting requirements in Rep. Calvert's 2000 law that created the federal program–ICCVAM–mandating that agencies work to replace animals tests with more effective and cost-saving cell-based and computerized tests. The FACT Act will help measure agencies' compliance and progress towards ending wasteful animal testing.
Original cosponsors of the FACT Act include Reps. Mike Bishop (R-MI), Vern Buchanan (R-FL), Betty McCollum (D-MN), Tom Marino (R-PA), Lucille Roybal-Allard (D-CA), Ed Royce (R-CA) and Dina Titus (D-NV). The FACT Act is the first animal testing-related bill of the 115th Congress.
Rep. Calvert, chairman of the powerful Interior and Environment Appropriations subcommittee, remarked:
"For two decades, I have played a key role in the efforts to replace wasteful government animal tests with modern alternative tests that save significant time, taxpayers' money and animals' lives. The FACT Act will ensure that Congress has the information necessary to determine if federal agencies are meeting their mandates to replace expensive and unnecessary animal testing whenever possible."
An ongoing review by the White Coat Waste Project found recent and ongoing government toxicity in which mice and rats were forced to inhale or swallow enormous doses of substances including green tea extract, French fry byproducts, herbal supplements sold for sexual dysfunction, gasoline and even cosmetic ingredients. Some individual animal tests for a single substance can cost taxpayers $4 million, use thousands of animals and take more than five years to complete.
Exposing and ending wasteful federal spending on unnecessary animal experimentation is an effort that transcends partisan politics. A recent national poll found that two-thirds of voters—73% of Republicans and 68% of Democrats—want more transparency about taxpayer-funded animal testing and that six in 10 want to cut federal funding for animal experiments.
The introduction of the FACT Act follows a recent federal audit request led by Reps. Calvert and Titus regarding how government agencies publicly report spending and other details about animal experiments they conduct. The request was based in part on a White Coat Waste exposé of secretive dog experimentation in government laboratories.
Please take a moment to email your Members of Congress to request that they cosponsor the FACT Act (HR 816). Click the button below to send a letter now.