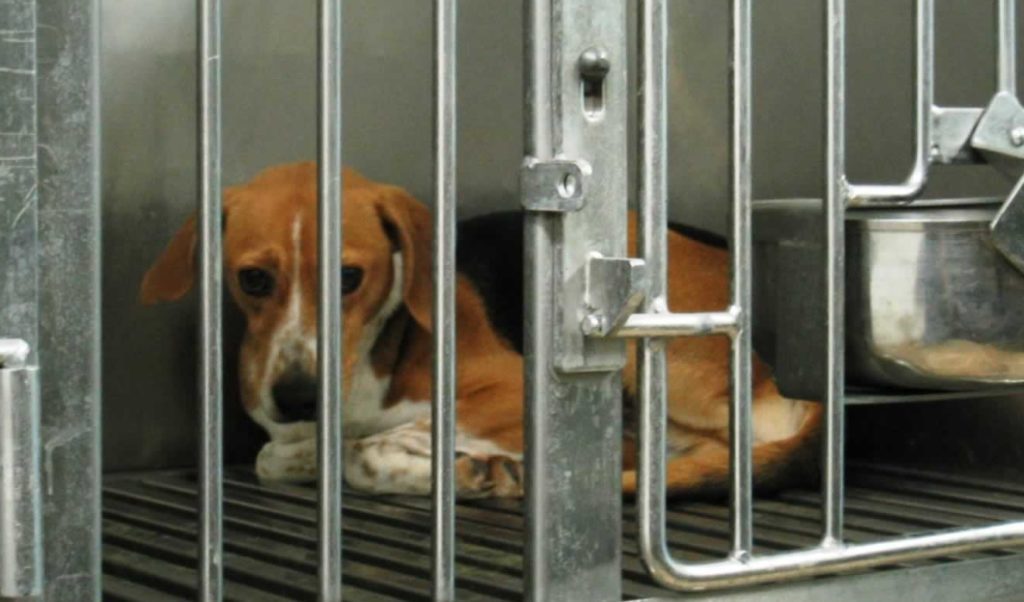 You may recall that in March, White Coat Waste Project filed a complaint with the Department of Veterans Affairs (VA) Inspector General to report waste and abuse in dog experimentation laboratories at the McGuire VA Medical Center (VAMC) in Richmond, Virginia.  The VA has just completed its investigation and the situation for dogs at McGuire is much worse than anyone knew. Richmond-area Congressman Dave Brat (R-VA) told WRIC,
The reports I read about were almost on the scale of torture….I think there are probably alternative paths that will lead to the same breakthroughs
In its 42-page internal report leaked to WCW, the VA substantiated WCW's main allegations about the mistreatment of puppies in painful heart attack studies and related dog experiments during 2015 and 2016.
Additionally, as first reported in The Daily Caller, during its WCW-prompted April 2017 visit to McGuire's dog labs, VA's Office of Research Oversight discovered widespread, ongoing waste and abuse that the facility had failed to identify. In its own words, the VA found:
"Lack of documentation to establish whether animals were appropriately evaluated and received supportive care"
"Non-adherence to provisions of the written Program of Veterinary Care"
"Deviations from approved study procedures and implementation of changes to studies without prior IACUC approval"
"Protocols that lacked necessary information to inform the IACUC's review and approval process"
"Deficient reporting and recordkeeping practices with regard to animal usage and disposition"

Specifically, VA documented extensive violations of federal animal welfare laws and policies, including that McGuire VAMC:
has failed to keep adequate records about sick and suffering dogs and whether or how they were treated

has consistently underreported the number of dogs used in experiments to federal authorities

has not kept accurate records about how and when dogs died or were killed 

has allowed unapproved experimental procedures on dogs

has approved unclear and incomplete applications for painful dog experiments

has allowed extremely painful procedures on dogs without justification

does not have a whistleblower policy that complies with federal law
Watch a clip from Richmond's ABC affiliate WRIC below:
Taxpayers should not be forced to pay for wasteful and abusive experiments in government animal laboratories.  Urge Congress to
cut funding for dog experiments at the VA
.