As reported by the Associated Press, Washington Post, Washington Examiner and others, at a signing ceremony this morning with White Coat Waste Project (WCW) as one of the invited speakers, the Environmental Protection Agency (EPA) announced the most comprehensive plan in U.S. government history to completely end "horrific and inhumane" animal testing exposed by WCW and opposed by a supermajority of taxpayers.
The EPA's landmark move follows an intensive WCW campaign, advocacy by thousands of WCW supporters, and leadership from Republicans and Democrats in Congress. Earlier this year, Congress and President Trump enacted WCW-backed legislation urging the EPA to cut its internal animal testing, which includes forcing rabbits and other animals to breathe truck fumes, eat lard, and other wasteful, expensive, and abusive experiments.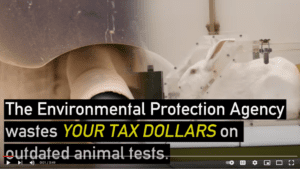 Now, EPA chief Andrew Wheeler–a longtime critic of wasteful animal tests who highlighted the issue in his Senate confirmation testimony–has committed to:
A 30% reduction in funding for animal testing on mammals, and in requirements for industry animal testing, by 2025
A 100% reduction in funding for animal testing, and in requirements for industry animal testing, on mammals by 2035
Investment of $4.25 million in the development of alternatives to animal testing
The EPA is the first agency ever to set a benchmark and timeline for the complete phase-out of taxpayer-funded animal testing.

On Capitol Hill, the bipartisan effort to curb wasteful EPA animal testing has been led by Reps. Matt Gaetz (R-FL), Ken Calvert (R-CA), David Joyce (R-OH), Debbie Wasserman-Schultz (D-FL), Betty McCollum (D-MN), Scott Perry (R-PA), David Cicilline (D-RI), Steve Cohen (D-TN) and Brendan Boyle (D-PA).