We are thrilled to tell you that our blockbuster exposé into the "Wuhan loophole" has gone… well it's gone…
There's just one word for it…
VIRAL.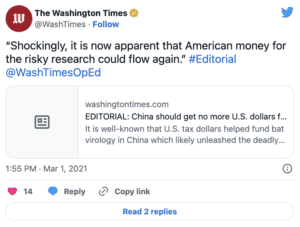 Our disturbing investigation that the National Institutes of Health is still authorizing the Wuhan Institute of Virology to snatch up U.S. taxpayers' dollars for EXTREMELY dangerous and cruel animal experiments was another shot heard 'round the world.

We're not going to lie.
We are thrilled so many media outlets and public figures are joining us to take on *the number one issue at the heart of the COVID-19 origin investigation*.
We don't exactly hate it when the New York Post's editorial board quotes our own President and Founder in its editorial.
But here's the thing.

All this glorious attention—and to reiterate, there's so much of it!—isn't for its own sake.

It's a key part of our tried-and-tested strategy, F.E.D.:
Step #1: FIND the waste
Step #2: EXPOSE the waste
Step #3: DEFUND the waste
Last April, as COVID-19 gripped the planet, WCW investigators were the very first to expose how U.S. taxpayers funded a suspected source of the pandemic.
Our first shot heard 'round the world also went viral… and launched the biggest and most important investigation on planet earth.
Our campaigns catch 🔥🔥🔥 because we get results.
Like this: Not two weeks after our latest viral exposé, the Biden administration announced it would NOT be funding the Wuhan Animal Lab!

Now we need to close the Wuhan loophole for good and make sure the NIH never sends another red cent to the Wuhan Animal Lab.
Sign here to revoke the Wuhan Animal Lab's eligibility for payouts AND the 26 other labs in China that still have access to your money!