There's been an earthquake in Los Angeles. And it's the BIG ONE.
After years of WCW pressure—and just days after

WCW's lawsuit exposed the VA's wasteful and painful asphyxiation and de-braining experiments

—CBS News has confirmed that we ENDED all taxpayer-funded kitten experiments at the Los Angeles Veterans Affairs lab!
This announcement follows years of WCW campaigning (and a previous victory shutting down the same lab's dog experiments) including:
We did this for taxpayers everywhere. And we did it for victims like Artemis, a "friendly + curious" kitten who was secretly killed at the LA VA on your dime.

In addition to confirming the end of the wasteful testing, CBS LA investigative reporter David Goldstein exposed never-before-seen photos and videos from an LA VA lab whistleblower.
The images depict cats with "head caps" that were screwed into their skulls to insert electrodes into their brains and restrain their heads during experiments.
CATS Act sponsor Waste Warrior Rep. Dina Titus (D-NV)—who has led Congressional efforts to defund the VA's sick experiments on cats (and dogs) with Army veteran Reps. Brian Mast (R-FL), VA funding panel chair Debbie Wasserman Schultz (D-FL), and Sen. Brian Schatz (D-HI)—cheered the announcement of the LA VA cat lab's closure.
She also reiterated the need for the CATS Act to be enacted in order to permanently end all the VA's cruel and wasteful cat experiments.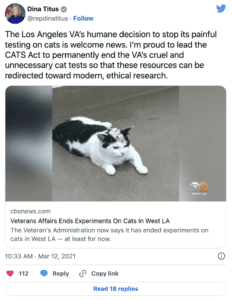 💪  One down, two to go. 💪
With the LA VA's taxpayer-funded cat lab in the litter box of history, we're coming for the VA's two remaining taxpayer-funded kitten catastrophes in Cleveland and Louisville. And we've got a supermajority of taxpayers on our side.

When the money stops, the killing stops.
Don't forget: We've already cleaned out the Feds' biggest cat lab: The USDA's $22 million Kitten Slaughterhouse. This leaves the VA as the last remaining government lab doing painful cat experiments.
Now we're on the verge of ending ALL government cat experimentation!
Please help us put the FINAL NAIL in its coffin. Tell Congress to pass the CATS Act!