Unless you've been living under a rock, you know that for over a year—since we first exposed and cut secretive U.S. taxpayer funding for dangerous coronavirus animal experiments at the Wuhan Institute of Virology—WCW been working to permanently defund the Wuhan animal lab, where many experts believe COVID-19 may have leaked from.
Now, following WCW's advocacy—including briefing Congress earlier this week—the U.S. Senate has taken unprecedented action to eliminate taxpayer funding for treacherous, wasteful and cruel experimentation at the Wuhan animal lab and throughout China.
Last night, the Senate unanimously approved two measures for inclusion in the bipartisan Endless Frontier Act (aka the U. S. Innovation and Competition Act) that crack down on this crazy spending.
First, the Senate passed an amendment introduced by Senator Joni Ernst (R-IA), Roger Marshall (R-KS) and Ron Johnson (R-WI) that permanently prohibits taxpayer funding to the Wuhan Institute of Virology.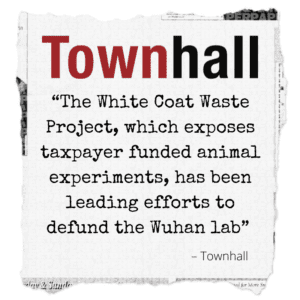 The Senate also passed Sen. Rand Paul (R-KY)'s amendment to prohibit U.S. taxpayer funding for any gain-of-function experimentation in China.

These are the risky experiments that were taking place in Wuhan in which coronaviruses and other pathogens are supercharged and injected into animals to make them deadlier and more contagious to humans. We've been calling for them to be defunded since early this year.
We'll keep you posted as this legislation works its way to the President's desk.  In the meantime, urge your member of the House of Representatives to defund the Wuhan animal lab!