🎶 STOP, in the name of waste 🎶
A new Senate bill introduced by Waste Warrior Sen. Joni Ernst (R-IA) would cut payouts to any taxpayer-funded grantees that violate federal law or refuse to answer questions from Congress.
The commonsense accountability bill—the Stop The Outlay of Payments (STOP) Act (S. 2056)—was inspired in part by our exposé of the shady non-profit EcoHealth Alliance that secretively sent your tax dollars to the notorious Wuhan animal lab.
We uncovered that EcoHealth—the poster child for waste, fraud and abuse—repeatedly broke the law by failing to disclose how much of your money it shipped there for dangerous and cruel coronavirus experiments on animals that many experts believe caused the COVID-19 pandemic.
Despite breaking the law, Ecohealth raked in over $19 million in new federal grants since the pandemic began, and another $1.5 million in pandemic bailout money for an outbreak it may have helped cause!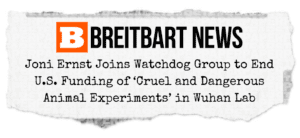 A version of the Stop The Outlay of Payments (STOP) Act has also been introduced in the House by Congresswoman Debbie Lesko. 
View this post on Instagram
Join our effort by telling Congress to permanently defund the Wuhan Animal Lab!