White Coat Waste Project is proud to award its second annual Greenbaum Policy Pioneer award to Mihael H. Polymeropoulos, MD, President and CEO of Vanda Pharmaceuticals, for taking a brave and principled stand against outdated, unnecessary, and wasteful Food and Drug Administration red tape that forces drugmakers to torture and kill puppies.
WCW's Policy Pioneer Award recognizes luminaries in advocacy, public policy, industry, and civic life who have made historic contributions to ending wasteful government animal experimentation. Last year, WCW honored former Administrator Andrew Wheeler for his visionary work to phase-out animal testing at the EPA.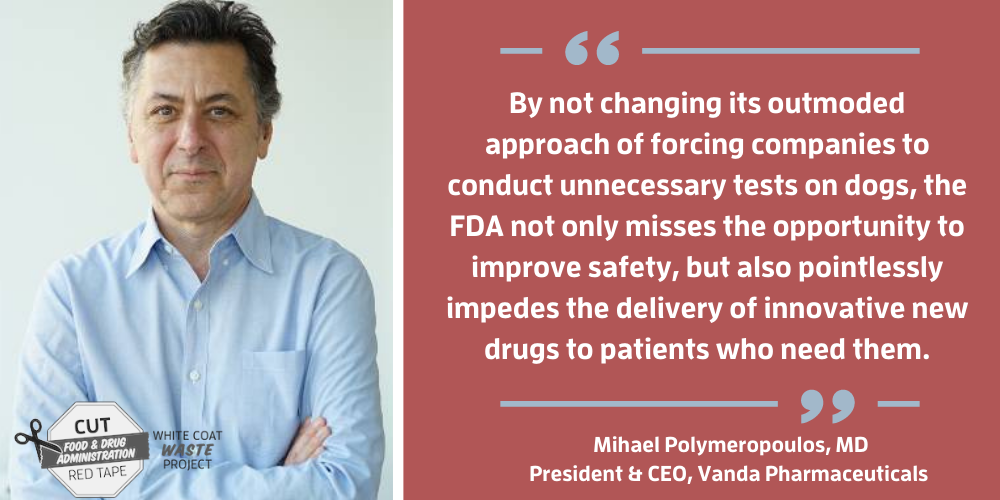 As WCW documented in its Broken Bureaucracy report, as part of the current drug approval process, the FDA forces pharmaceutical companies to perform wasteful and cruel dog tests to assess a drug's safety.
But, when the FDA tried to compel Vanda to conduct unnecessary 9-month-long poisoning tests on dozens of beagle puppies, Vanda pushed back.  As Dr. Polymeropoulos and Vanda Pharmaceuticals noted in an open letter to the agency, "FDA is ignoring a large body of published scientific evidence which concludes that nine-month dog studies rarely, if ever, identify toxicities that were not already identified in three-month studies, and do not yield new information that is important for the purpose of understanding how the drug will impact humans."

Though it would have been far easier to acquiesce to the FDA's demand that Vanda experiment on and kill beagle puppies, Dr. Polymeropoulos stood his ground, following the courage of his convictions at great personal and financial cost. The FDA put the brakes on a promising new drug being developed by Vanda, and Vanda's stock took a nosedive as a result of the impasse with regulators. But Dr. Polymeropoulos didn't relent.
In a fiery statement, Dr. Polymeropoulos said: "The FDA has relied on industry complacency for too long. Vanda refuses to sacrifice young beagles or other animals in a study that serves no scientific purpose. Vanda believes that we all have an ethical responsibility to reduce, refine and replace animal experimentation to the maximum extent possible….Vanda is therefore standing up to the FDA and hopes that other scientists, drug companies, animal advocates, and the public will do the same."
Dr. Polymeropoulos helped shine a bright light on the FDA's animal testing red tape, greatly raising public awareness of government-mandated cruelty and waste. Dr. Polymeropoulos and Vanda Pharmaceuticals' deeply principled position has inspired a bipartisan array of U.S. lawmakers to propose crucial, cost-saving and animal-saving reforms to an archaic law requiring wasteful animal testing. This includes the WCW-backed Alternatives to Animals for Regulatory Fairness (AARF) Act, which would cut FDA red tape by allowing drug makers to use alternatives to dog testing.
This is what true courage looks like. Dr. Polymeropoulos and Vanda Pharmaceuticals could have simply stayed quiet, performed the FDA's requisite beagle tests, and reaped the rewards — but instead, they followed their principles and their consciences. Their decision to challenge FDA red tape could not have been easy, bravery seldom is.
The courage of Dr. Polymeropoulos is an inspiration to us all, and he is eminently deserving of WCW's second annual Greenbaum Policy Pioneer award.