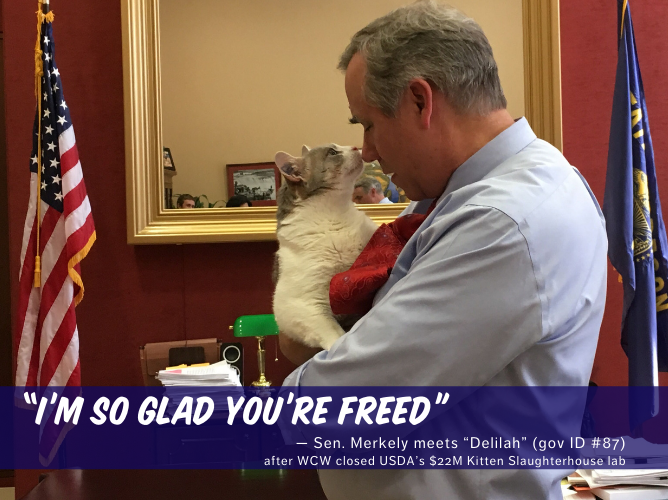 When White Coat Waste Project shut down the USDA's kitten slaughterhouse earlier this year, the agency committed to adopting out the 14 cats who remained in the shuttered lab. Now, some of the lucky survivors got to meet the lawmakers who helped win their freedom after years locked in a federal laboratory.
Last week, as first reported by NBC News, the WCW team brought Petite and Delilah, two of the breeder cats retired by the USDA, to visit KITTEN Act leaders Senator Jeff Merkley (D-OR) and Congressman Brian Mast (R-FL). Delilah immediately warmed to Sen. Merkley, who told her, "I'm so glad you're freed." Rep. Mast told us, "it's nice to have you bring them in here, and to see the results of a little bit of the work that we got to do out there."
Sadly, retirement is not yet an option for virtually all 50,000 animals suffering in government laboratories. That's why WCW is working with Congress to ensure all animals abused in government labs have a chance at the happy ending Petite and Delilah got.
Urge your Congress members to support Violet's Law (aka the AFTER Act) to give a second chance to animals that endured the abuse in wasteful government experiments!