Our win against the Wuhan animal lab is making waves!
After a relentless three-year WCW campaign, the National Institutes of Health (NIH) has finally disqualified the Wuhan animal lab from receiving any more taxpayer money to fund their wasteful, torturous, and dangerous animal experiments (which likely caused the COVID-19 pandemic!)

Animal lovers and liberty lovers far and wide are celebrating the news, including dozens of Waste Warriors on Capitol Hill and media outlets who are praising WCW's key role in funding, exposing, and defunding the Wuhan lab!
Roll call: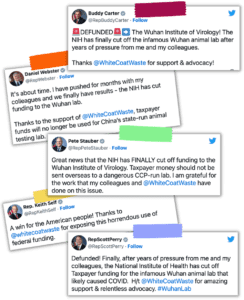 Media outlets covering our historic win recognized WCW's years of investigations, advocacy, and lobbying that stopped the flow of taxpayer money being sent to Wuhan:
But wait, there's more! Other members of Congress who worked with WCW to wrangle this win celebrated the news too:

From the Kremlin to Wuhan, our #WorldwideWaste campaign continues to make waves, but we won't stop there!
Thank you for helping us win the war on waste!