🔥  Congress is demanding an investigation of the National Institutes of Health, following WCW's blockbuster exposé that the Wuhan animal lab which may have caused the COVID-19 pandemic, is still eligible to get taxpayer dollars from the NIH. 🔥

Today, in response to WCW's ⚡shocking revelations⚡, 28 members of Congress led by Rep. Scott Perry (R-PA) dispatched a letter to the U.S. Dept. of Health and Human Services' Inspector General demanding a "prompt and thorough investigation" into the NIH's relationship with the Wuhan Institute of Virology.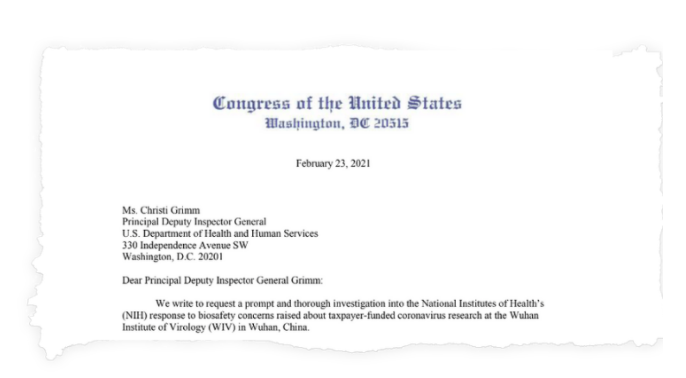 You can read the letter in full here.
Specifically, the lawmakers want a probe of NIH's funding of WIV's treacherous coronavirus experiments on animals and its response to the serious biosafety concerns raised about China's state-run animal lab over the past several years… including a little thing like whether the COVID-19 virus which has roiled our health, economy, and lives for almost a year now, leaked from this very lab. 

The Wuhan animal lab was using taxpayer dollars for extremely dangerous "gain of function" coronavirus experiments, aimed at "supercharging" viruses to make them as contagious and deadly to humans as possible and injecting them into animals in cruel and risky tests.

"NIH allowed U.S. Taxpayer dollars to be secretively funneled to WIV's reckless coronavirus experiments," the Congress members write.
Among many others, the Biden White House said just last week that it's possible that the pandemic sprung from WIV, and that efforts to uncover the truth are thwarted by the Chinese government's lack of transparency and withholding of vital information. Yet, the NIH has dismissed the notion that these experiments caused the pandemic before an investigation has even taken place.

The editorial boards of the Wall Street Journal, the Washington Post (twice!), and the New York Post have also condemned the secrecy which hampers investigations into where COVID came from and how it became a pandemic.
As the members of Congress strongly put it: "[W]e are gravely concerned about the NIH's relationship with both EcoHealth and WIV, and the Agency's handling of allegations that the COVID-19 pandemic was potentially caused by an NIH-funded laboratory at WIV. We also are alarmed that WIV is eligible to receive additional funding from the NIH through 2024."

We are deeply grateful to Reps. Perry, Troy Balderson (R-OH), Andy Biggs (R-AZ), Ken Buck (R-CO), Ted Budd (R-NC), Rick Crawford (R-AR), Daniel Crenshaw (R-TX), Rep. Jeff Duncan (R-SC), Matt Gaetz (R-FL), Bob Gibbs (R-OH), Louie Gohmert (R-TX), Diana Harshbarger (R-TN), Jody Hice (R-GA), Ronny Jackson (R-TX), Doug Lamborn (R-CO), Nancy Mace (R-SC), Dan Newhouse (R-WA), Ralph Norman (R-SC), Bill Posey (R-FL), Guy Reschenthaler (R-PA), Chip Roy (R-TX), Austin Scott (R-GA), Pete Sessions (R-TX), Elise Stefanik (R-NY), Greg Steube (R-FL), Tom Tiffany (R-WI), Jeff Van Drew (R-NJ), and Daniel Webster (R-FL) for their absolutely essential leadership.

It is no exaggeration to say that taxpayer-funded animal experiments are now the number one issue at the heart of the COVID-19 origin investigation.

That's why WCW has been at the forefront of calling for the Wuhan animal lab to be investigated and completely defunded—not to brag, but we were into this issue before it was cool.

In fact, we're the ones who first bought it to the world's attention, that the NIH was handing out your money to the Wuhan animal lab, despite the State Department warning the experiments pose a pandemic risk.

Every day, now, the calls are growing louder from the many people who have joined us since demanding the U.S. to do an independent, transparent, trustworthy investigation into where this virus came from, and stop shipping taxpayer dollars to Wuhan for animal experiments to put us in danger while lining their own pockets.
Please help by signing our petition, telling the government to STOP shipping your tax dollars to the Wuhan Institute of Virology for wasteful, cruel, and dangerous animal experiments!