UPDATE (November 2021): New documents we obtained from THIS LAWSUIT prove Dr. Fauci's staffers knew that EcoHealth's proposed animal experiments at the Wuhan lab were indeed gain-of-function — then allowed them to proceed anyway.
Peter Daszak, head of shady nonprofit EcoHealth Alliance, called it "terrific!"
We call it shocking. Maybe even pandemic-inducing.

WCW to NIH: "We'll see you in court"
We've told you before about the shady, shameless non-profit—EcoHealth Alliance—that secretively funneled your tax dollars to its friends and close collaborators at the Wuhan Animal Lab for dangerous and cruel coronavirus experiments on animals that many experts believe caused the COVID-19 pandemic.
As WCW exposed, EHA repeatedly violated the law by failing to disclose how much tax money it received from the National Institutes of Health it then shipped to the Wuhan lab.
So, it might not shock you that they're not really fans of transparency. EHA's president Peter Daszak—who has actively concealed his ties to the Wuhan Animal Lab and attempted to undermine the lab leak hypothesis—has publicly stated: "Conspiracy-theory outlets and politically motivated organizations have made Freedom of Information Act requests on our grants and all of our letters and emails to the NIH. We don't think it's fair that we should have to reveal everything we do."
Sorry Pete, that's not how things work. Your group has gotten over $60 million in federal funds, and taxpayers have a right to know how our money is being spent.
So, we just filed a federal lawsuit against the NIH for failing to release funding applications, correspondence with EHA before and after the pandemic started, and other related materials.
The requested documents—including Anthony Fauci and other NIAID officials' emails dating back to 2013—would give insights into what the NIH knew about how EcoHealth Alliance was spending the agency's money at the Wuhan animal lab, and what NIH and EHA knew about a potential lab leak in late 2019 and early 2020. We're also seeking documents about whether the NIH grant that funded the Wuhan lab's dangerous coronavirus experiments was properly reviewed before being doled out.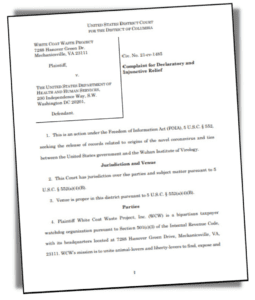 The lawsuit also demands access to any correspondence between the NIH's Anthony Fauci and former CDC Director Robert Redfield, one of the many experts who believe that the pandemic resulted from an accident at the Wuhan Animal Lab.
We'll keep you posted on developments as we fight for access to these important documents that may contain insights into the origin of the pandemic and our government's role.
In the meantime, tell Congress to permanently defund the Wuhan Animal Lab!